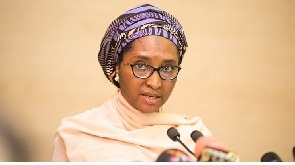 The Minister of Finance, Budget and National Planning, Madam Zainab Ahmed has revealed that the federal government spent N118.37 billion on coronavirus related expenses in 2020.
Madam Zainab made this known during a virtual presentation of the approved 2021 budget on January 12.

Listing the allocation of the funds, she noted that a total of N10.08 trillion was spent on capital projects, debt servicing, payment of salaries and pensions, and other expenditures.

The finance minister explained that the N118.37 billion was churned out of the N10.08 trillion. Although the Federal Government proposed N9.97 trillion for the coronavirus expenses, it spent about N10.08 trillion.

In a publication sighted on tori.ng, the Minister said that to finance the deficit in the 2021 budget, N709.69 billion would be collected 9from multilateral/bi-lateral loans drawdown, which would be added to the funds expected to be raised from borrowing and sale of public assets.

She mentioned that the Federal Government generated N3.94 trillion in the 2020 fiscal year and the total represents about 73 per cent of the target for the 2020 fiscal period.

This indicates the government could only achieve N3.94 trillion out of the proposed revenue target of N5.39 trillion, thereby leaving a revenue shortfall of N1.45 trillion.
She noted that the non-oil performance failed to meet its expectations although the oil revenue outperformed its target.

According to the minister, the Federal Government earned N1.52 trillion from oil revenue representing an over the performance of 157 percent, while non-oil tax revenue was N1.28 trillion, which was about 79 percent of the target.

Madam Ahmed added that Companies Income Tax (CIT) and Value Added Tax (VAT) collections were N673.22 billion and N192.66 billion, representing 82 percent and 68 percent respectively of the pro-rata revised targets for the period.

She placed the Customs revenue at N410.21 billion which is about 79 percent of revenue performance, adding that other revenues also contributed N993.73 billion to revenue generation.

The Minister hinted that the coronavirus pandemic impacted negatively on the revenue causing it to underperform.